A version of this article originally appeared in the September issue of Bicycle Retailer & Industry News.
BOULDER, Colo. (BRAIN) — For our September magazine edition, we asked members of our State of Retail panel: Describe your store's social media usage and how it has changed since pre-COVID?
CINCINNATI: David Bordewisch, Manager Biowheels
Our social media accounts for approximately 20% of our marketing efforts. We have a very diverse customer base, so we use social media to highlight new bikes and let others see what we have in stock. We also show happy customers with their new bikes. Almost everything we do is on Instagram and Facebook; other than adding a few "reels", we haven't expanded to new platforms. Most of our content is self-generated, managed by one person. Post-COVID, we are more consistent by releasing new content regularly.
Our best practices are: Think things through before you post them. Stay away from politics and social commentary. Update frequently and make sure something is posted at least once a week. Be selective when reposting, as original content garners much more interest. We do not directly track or monitor our social media ROI, but when the new Pinarello "F" was released, we received some leads which were productive. However, the number of potentially fraudulent claims has also increased.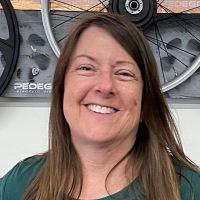 We continue to invest heavily in Google Adwords as our primary source for marketing and advertising. Nothing else we've tried for eight years has been as successful as this…and good old word of mouth from satisfied customers. That said, we're very active on Facebook, moderately active on Instagram, and we occasionally post on Twitter. We also have a private Facebook group for our local owners. Most of our content is posted by store owners. We take photos of people when we deliver their bikes, when we go on group rides, when we organize special events. We once tried to outsource but were not satisfied with the relevance of the positions. I wouldn't say we've made any real changes to our social media strategy due to COVID. As we do not sell online, it is difficult to track any type of ROI. We tried Facebook Ads, but saw no feedback.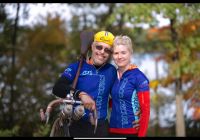 Since the start of the pandemic, we've increased our social media traffic by around 60%, and it continues to thrive. We also learned more about algorithms. The platforms we use are mainly Facebook and Instagram, but we also have a Twitter account, and we try to be more active there too. I personally manage our posts and usually post three, four and sometimes 10 times a day. From time to time we pay for advertising on Instagram, Facebook and WhatsApp, and we usually get very good results. I learned that you have to be consistent in publishing and that it takes a few months to get used to it. It took about several months for people to start following and liking us. Now we are getting a good flow of newcomers.
ALTO, Georgia: Joe Elam, Owner Habersham Bikes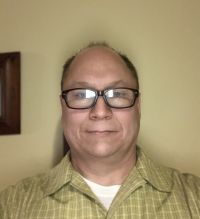 We have synchronized our store's Facebook, Twitter and Instagram accounts, which means that we post once on Facebook and it is automatically sent to other accounts. I mainly rely on Promoboxx to generate our content. Its automation ensures that we have content on a fairly regular basis, and we create our own posts when we have special announcements such as a new product or special hours. Promoboxx has been my only real social media strategy, and that hasn't changed before or after COVID. I haven't moved to any new platforms and still consider Facebook the standard platform for marketing purposes.
In the early days of social media, I paid for advertising and tried to track its return; however, I stopped doing this because I was never able to justify paid advertising in terms of a return on sales or even new customers. I've always heard that marketing should be budgeted at a rate of around 2% of revenue, but in my experience most dollars spent on advertising rarely have a return to match the investment. The more social media grows, the more I believe local is local and word of mouth is most important.
FOLSOM, CA: Erin Gorrell, Owner Folsom Bike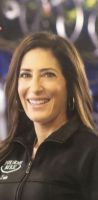 Social media is extremely important for our sales and marketing because we can reach our audience instantly. We absolutely track ROI and, like any facet of a business, we are constantly reviewing, adapting and modifying it. Our goal is to create content that is compelling and applicable to the needs of our customers and that aims to inspire them to ride a bike. We try to be diverse in our messaging to cater for all levels of riders and provide information and scenarios where the customer can imagine themselves in the story we share. We want to inspire them to cycle by providing them with routes, "how tos" and of course, the latest and greatest products available to them. We handle all of our social media and marketing internally as we are very specific about our message and imagery. While our social media output has always been daily, we've grown a bit during and since COVID, providing local cycling routes every week to help our customers explore places they may not have known. We didn't change the platforms we were using; we just amped it up a bit.
To note: Folsom Bike co-owner Erin Gorrell will no longer be on the panel after this month following the sale of her two stores to Trek Bicycle, effective September 1.
PORTLAND, Oregon: Tom Martin, sole proprietor TomCat Bikes
My main social media account for my shop is Instagram, with Facebook integration. I do all the content creation myself through a smartphone app. I'm a lousy photographer, but it works with the shop's anti-marketing "dive bar" vibe. Social media is geared towards short videos and I resist this because it requires more resources, better lighting and a faster learning curve. I only have a short time. My use of social media marketing hasn't changed during COVID, but I value it more than a lot of stores it seems because I post a few times a week. I measure my ROI through metrics such as appointments booked directly from the platform and sales closing via messaging. Social media is best as a local tool for your market. My advice is don't be shy about tagging other complementary businesses – even other stores – because they'll reciprocate if they're smart. Also, make sure to auto-follow any follower that has more than 1,000 followers, as this will bring in other customers due to the algorithms..
HATTIESBURG, Mississippi: Jenny Moore, Co-Owner/Manager Moore's Bike Shop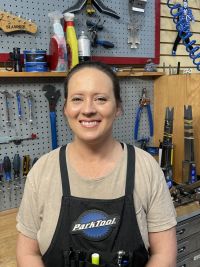 Our current use of social media includes Facebook and Instagram. I only post on social media, but encourage ideas from staff members. Our content includes sharing local cycling events, introducing new merchandise to the showroom, and other positive content I come across. With the constant volume of customers in the store, I had less time to focus on content creation, and our social media activity was down compared to the early days of COVID. Fortunately, our alternative advertising strategies successfully keep business steady. I tried sharing unique and popular posts on our social media and didn't see consistent results, but I remember years ago I was stuck with a StreetStrider that needed to go. The staff and I made a short video demonstrating its use, and the next morning two groups arrived arguing..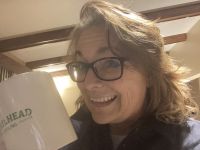 We use Facebook and Instagram, adding posts every two to three days. Our Facebook content tends to be more detailed and Instagram content is more image/headline focused. Most of our posts come from me, but our Shop Ambassadors add ride updates and event information. The social separation of COVID has pushed social media deeper into our lives. It has become necessary to dedicate time to Facebook Messenger, and we find that adapting to the way consumers communicate is the biggest change we have made to our use of social media since the pandemic. We believe social media is extremely important to our sales and marketing, and Facebook provides great tools to track impressions, clicks, and likes. Doing nothing for your store's social media is a failure. Try something. Learn from your mistakes, then try again. And also, add a messaging platform – use Instagram for images and Facebook for details and email for engaging content.